So here you are now on your feet again, had a little spill.....
And so I resurface. Since I started my new job I've just been Soooo tired...no tired isn't the right word I've been drained. So much has happened since I started working for Innovative Artists. The office is huge, I work long hours and I am just now starting to "adjust" so to speak.
Saturday Steve& I went to Six Flags!!! It was my first time ever and it was AWESOME!!! The Superman ride was my favorite. We got season passes so I have some free admitions if anyone wants to plan a trip.
Went to the outlets w/ Jerri, Vixie, Lauren, Joy & Joanne this weekend, which was really nice. I really needed stuff that I could wear for work so I fully shopped till I dropped w/ the clothes. From Gap I got a black sundress, brown Capries, this really cute green top that Jerri found for me, a teal/green white floral sundress, and a really cute denim sundress that Joy bought me (well Joy's birthday money bought me lol).
Pepperidge Farm made me happy as perusual, I bought xplosive Pizza fish...of course and mini mint malanos...yummmmmm
We went to Claire's and I bought a whole bunch of dollar stuff, cute footless tights and knee socks, a snake bracelet, guitar, Monkey & devil heart earrings, a couple of Link Larkin Necklesses and a Link heart ring.
At Bath & Body works, I got a pink & a blue rubber duckie, I also bought a couple of travel warm vanilla sugar lotions, a shimmer japanese cherry blossom lotion, mango manderin body butter and pearberry body cream. I shall be hence forth well moisturized.
Old Navy went pretty well too, I found a burnt orange halter, black & nay tanks, a teal wrap dress, denim shorts, a pink t-shirt & skinny black pants
At the Disney outlet, I got a little Pip doll, who ended up being only 99 cents, can we say SCORE! ANd I found a really cute Sally (from Nightmare before Christmas) t-shirt for $1.99.
I found a really cute halter and a super soft zip up hoody.
But by far my best purchess was the leather jacket that I simply FELL IN LOVE WITH!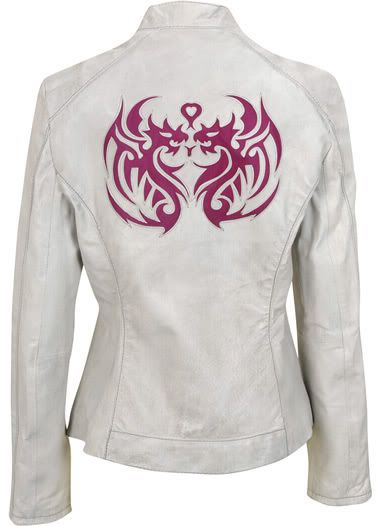 I mean Seriously is that not KICK ASS?!?!?
Anyways I had a really great time hanging out w/ the ladies. I always do. It's nice to have car ride sing-a-longs and just chill and SHOP!!! I love the fact that I can remenice about what we did "last week five years ago". I am SO tired today, but this weekend was so nice.